Our Team
Come to us... for over 35 years of experience
---
Mike Besso, CPO Instructor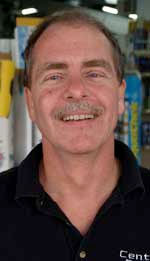 Mike, the General Manager of Central Pools & Spas, started working at this location back in 1971. He brings 34 years of knowledge to serve you in all areas of pool and spa construction, design, renovation and repair. Mike keeps quite current with leading edge technologies and has been a CPO Instructor (Certified Pool Operator), teaching courses in pool operations and water chemistry, since 1997. He plays an integral role in product selection for the store, ensuring that the quality and performance of the products offered at Central are the best solutions for your pool or spa.
The author of "Mike's Tips" on this web site, Mike has worked for years in virtually every aspect of pool and spa design, installation, operation and repair.
---
Rob Barillot, Store Manager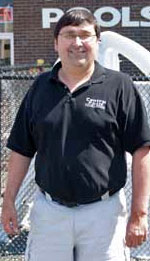 Rob is the Store Manager for Central Pools & Spas. Rob provides Central Pools with expertise in spa/ hot tub products and water chemistry issues. Having worked in all aspects of pool and spa field service, Rob came to Central Pools after working four years with a major northeast distributor of spas, pool equipment, and chemicals.
He is a CPO (Certified Pool Operator) and keeps current with numerous water chemistry, equipment and new product seminars. With 25 years of industry experience, Rob can help you with product information, selection and sizing to get you the correct part that you need for your pool.