Swimming Pool Chemicals
---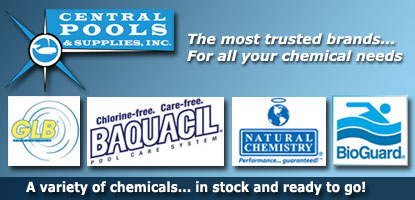 Central Brand
Bio Guard
Baquacil
Specialty Chemicals
Leisure Time Spa Chemicals
Baquaspa

Sparkling blue, crystal clear water is every pool owner's desire -- and doing it with little effort is important too! We'll help you make water maintenance quick and easy with one of our pool care chemical programs! Tap our years of expertise to select just the right program for your pool care needs.
There is more to water chemistry than just clear water, you also need to...
Sanitize- to eliminate bacteria and prevent algae growth
Balance –Proper water balance is essential for the comfort of bathers, the efficiency of disinfectants and the protection of pool surfaces and system components.
---
Central Brand:
Central Pools Brand sanitizers, balancers and specialty chemicals, are highly concentrated and are specifically formulated for New England weather and offer the best value that you can count on to keep your pool clean and fresh!

Sign up for our Central Brand Algae Free Guarantee Program to ensure a trouble free season without algae. Follow our easy step program, using Central brand chemicals, starting with an algae free pool.
Maintain 1-3 PPM of free available chlorine
Weekly shock and algaecide treatment
Maintain proper water balance
Have your water tested at our store once a week (Free of charge of course!)
Operate filtration system for a minimum of 10hrs/day for 7 days a week
We are so confident in our Central Pools brand of chemicals, following this program if you should develop algae, we will provide you with the chemicals to eliminate it at no charge.
Come on down to our store to sign up for...
Central's Algae Free Guarantee Program
---
Bio Guard: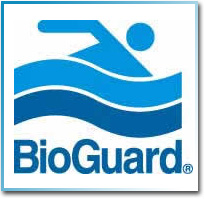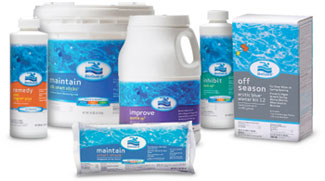 Bio Guard encourages the program approach to pool care. Simply put, it's the easiest way to sparkling clear pool water. Their customized 3-Step programs, Mineral Springs® and non-chlorine SoftSwim® products are convenient and effortless. You'll spend only minutes per week maintaining beautiful pool water.

Bio Guard has several programs from which you can choose, each is simple with step-by-step instructions!
---
Baquacil: The non-chlorine alternative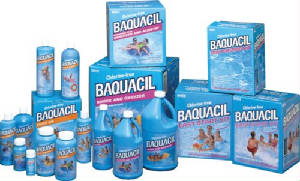 Imagine crystal clear water with no irritated eyes. Imagine swimsuits that keep their color and hair that doesn't dry out. Imagine a pleasant odor. Gentle to your skin, BAQUACIL gives your satisfaction knowing you're not only doing something good for your pool, but good for your family, too.
The BAQUACIL Pool Care System provides complete protection against bacteria and algae - without the harsh effects of chlorine. It is ideal for any type of pool: in-ground, above-ground, fiberglass, vinyl or plaster. BAQUACIL's been keeping pools clear without chlorine for more than 20 years.
3 simple steps is all it takes to care for a BAQUACIL pool.
Check water balance weekly and adjust as needed; add BAQUACIL SANITIZER AND ALGISTAT if needed.
Add a maintenance dose of BAQUACIL ALGICIDE once a week.
Once a month, add a maintenance dose of BAQUACIL SHOCK and OXIDIZER.
Because BAQUACIL SANITIZER and ALGISTAT lasts longer than chlorine, you only add it to the water once every 10-14 days. Of course, testing the water in your pool is still recommended once a week. Keeping proper water balance helps prevent possible discoloration or corrosion of pool equipment and ensures that BAQUACIL will work most effectively.
---
Specialty Chemicals: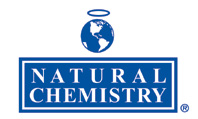 We carry a broad selection of specialty chemicals from Central Pools Brand, GLB, Natural chemistry, SeaKleer, Bioguard and Baquacil, that help solve problems with your water chemistry that may arise throughout the season. Such as:  metal and scale control, phosphate removal to discourage the growth of algae, clarifiers to help clear cloudy water, filer cleaners and degreasers.
---
Spa Chemicals:
Are you getting your daily does of relaxation?
What do you love about having a spa?
The luxury of coming home after a long day and relaxing in soothing waters.
The peace of mind you experience as you soak away stress.
The anticipation of the warm, bubbly water taking away whatever ails you.
Leisure Time Spa Chemicals:

For more than 25 years, Leisure Time has made outstanding products for spa water care. During that time, spas have become more luxurious and consumers more sophisticated. Leisure Time continually improves its product line, the program and the packaging that elegantly wraps up years of innovation
The line features sanitizers, clarifiers and balancers plus much more. See the full line in our store and let us help you pick the best products for your needs.
Baqua Spa Chemicals: A Non Chlorine Alternative
A full line of high quality bromine–free, chlorine–free products for long-lasting bacteria control and gentle spa water.

The principal chemical in the BaquaSpa Water Care System. A bromine-free, chlorine-free liquid sanitizer that provides effective control of bacteria and protects against staining and discoloration due to metals.

Benefits of BaquaSpa

Long shelf life
Highly stable in elevated temperatures
Lasts longer than bromine- or chlorine-based sanitizers
Brilliance: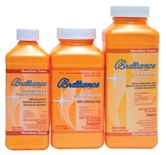 The bromine spa care system. Unlike other bromine-based spa care systems it's completely chlorine-free, so there's less odor and less irritation to your eyes and skin.