Free Computerized Water Test Lab & Shop Repair
---
We recommend that pool water be tested regularly throughout the swimming season to detect potential problems. Bring in your water - we'll analyze it for free! We have a full, computerized water testing laboratory. We recommend using our test lab every other week in addition to testing more frequently at home.
Call 508-879-6660 if you have any questions on water chemistry.
Our computerized water test station is accurate, quick and easy. The scanner measures free chlorine, total chlorine, combined chlorine and bromine total alkalinity, PH, calcium hardness, cyanuric acid. The system gives you a complete print out with step by step instructions. It tells you what chemicals are needed, how much to add , how to add them and in what sequence, in order to maintain a balanced level.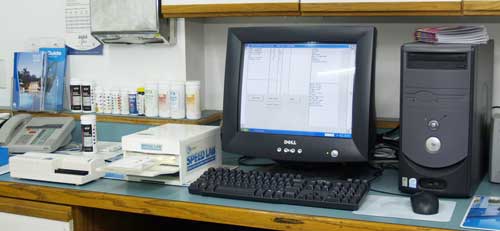 TIP: Collect a Clean Water Sample for Analysis
Here's what you do:
Start with a clean, glass or plastic bottle -- that is, making sure whatever was in the bottle has been rinsed out and that no soap residue is present. Simply rinse with warm water to loosen product, dirt, etc.
Rinse the bottle with pool/spa water discarding your rinse water outside the pool or spa.
Invert the bottle (mouth down) and push down into the pool or spa about 8-10 inches. With the bottle below the surface, turn the bottle upright to fill. This way, you'll collect water without any surface contaminants.
Cap and bring to the store as soon as you can (no rush, but don't leave it sitting in the sun which could break-down some chemicals prior to testing.
Be prepared to tell us what products you use in your pool and the most recent applications you've made and when.
---
In-Store Shop Repair Service:
Take advantage of our walk-in shop repair. Central Pools is a warranty repair center for just about every product that we sell.  This service is ideal for the pool owner who may not have the tools or expertise that Central Pools can offer with regard to product repairs.  This service provides a quicker turn-around with less down time for your pool. Our customers also benefit by saving the cost of an on-site service call.
Pumps
Motor replacements
Pump housings
Motor bearings
Leaking seals
Gaskets
Warn impellers
Filters
Automatic cleaners (tune-ups and repairs of Aquavac &  Polaris)
Multiport valves