Welcome to Central Pool's Store
Come on down for all your pool needs!
Let us help you do it yourself and save!
---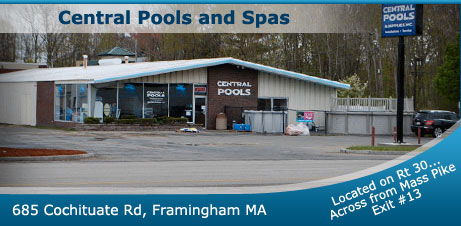 At our pool store, you will find everything you will need to keep your pool or spa running smoothly all season long.  Our trained pool professionals will help you make all the right choices when selecting your products and pool chemical needs.  It is our expertise, combined with competitive pricing, that is the true value when shopping at Central Pools.






Store Hours (winter):


Mon: 9am - 5pm
Tue: 9am - 5pm
Wed: 9am - 5pm
Thurs: 9am - 5pm
Fri: 9am - 5pm
Sat: 9am - 5pm
Sun: Closed


Whether you are shopping for a new pool, chemical program, or replacing equipment, come to Central Pools.  We offer FREE computerized water testing and also service/install everything that we sell.  If you prefer, we will teach you how to do it yourself and save!

Let's not forget the fun and entertainment in swimming pool ownership, after all... isn't that what it is all about?  Central Pools carries a huge assortment of toys, games and floats for both young and old.  Whether it is a basketball game for the kids or a floating lounge for Mom, you will find it all at Central Pools!

 
Some of the items you will find in our store:
Pool & Spa Chemicals
Baquacil/Bio Guard/GLB
Water Test Lab
Above-ground pools
Above-ground pool steps
Automatic Pool Cleaners
Nets, poles, brushes, vac heads, hoses
Cleaning supplies
Toys, Games, Floats
Replacement Liners
Safety covers
Chlorine Generators
Pool Filters/Pool Pumps
Pool Heaters/Heat Pumps
Solar Covers & Reels
Spa Covers