Safety Covers:

---
Is your swimming pool cover this safe?

| | |
| --- | --- |
| | Protect Your Family with the one pool cover that passed the "Bubbles the Elephant" test... |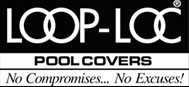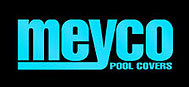 LOOP-LOC's fine mesh allows rain to drain through. The cover stays dry and beautiful in any weather! Solid pool covers with waterbags become a dangerous, slippery swamp after just a few rain storms. No More Back-Breaking Maintenance. Unlike solid water bag covers, a LOOP-LOC requires no pumping, scrubbing or heavy maintenance. And it's much lighter in weight than typical solid vinyl covers, so putting it on and taking it off your pool is a snap! LOOP-LOC covers are a perfectly beautiful fit every time. LOOP-LOC's exclusive Computer Aided Design assures a perfect, custom fit for any shape or size pool. A LOOP-LOC always stays tight, clean and beautiful on your pool - unlike saggy, unsightly solid water bag covers.


Every safety cover we install is carefully measured to the exact spec of your pool to ensure a tight fit and to maximize safety. All of our installations for aggregate, pavers or ornamental decks use our special core drilling process that minimizes aggregate loss around the anchors.
Installation Process:
Benefits of Using a LOOP-LOC Cover:
The polyester bonded thread used in LOOP-LOC covers costs almost 10 times more than that used by some of our competitors.
Double perimeter webbing and double-thick straps give the covers an incredibly high break strength.
Extremely high-strength, non-corrosive 302 grade stainless steel springs for superior weight-bearing capacity.
The webbing to the cover using contrasting white thread, instead of black, to ensure that not a single stitch is missed.
87% black yarn in our fabric for superior UV stability. Chafe strips are manufactured with exclusively virgin material - not "regrind," which tends to stain decking.
Non-corrosive aluminum tips are double-notched for stability. The large X-tacking on LOOP-LOC straps is sewn manually for precise placement and maximum strength.